Interacting with massage clients is an important part of every massage. It is great to ask clients questions prior to a massage session, as well as throughout a massage. This will engage that person, and allow you to figure out their needs so that the massage session will be what they are looking for. The person will feel cared for and trust you as a massage therapist and allow the proper rapport to be built.
What to Ask Your Clients
Great questions to ask prior to the massage session can range from asking how they're feeling. You can also ask what brings them in, areas of tightness on their body, and their past medical history. It is best to do this while making eye contact and face to face, so that the client can feel that he or she has been adequately heard. The therapist can make any notes needed to be able to remember this information and prioritize it. They will also have a record of it for the next session.
During the massage, massage therapists can and should ask questions as needed. For example, check in and ask questions about how the client is feeling, ask about how the pressure is (and if they'd like more or less), how the temperature of the room is, and of course how the particular technique feels. There is a balance between asking questions and allowing the person to relax into their massage without undue distractions.
Communication After The Massage
Afterwards, it is good to advise the client that they might feel sore as related to the massage itself. There may be other recommendations that the massage therapist has for the client, such as certain stretches or movements to perform. The massage therapist should also tell the client to drink ample water. This will flush out the toxins from the body and rehydrate. There may even be a reason to advise the client to take a warm epsom salt bath or use a heat pad to bring blood flow to the area.
Massage Choice
PMA teaches a wide range of massage techniques that a client may want, including Swedish massage, Deep Tissue Massage, Sports Massage and Pressure Point Therapy. There are specific techniques that are needed based on the clients needs. To identify what the client may need, discuss with clients beforehand what they want. For example, Swedish massage is great for a relaxing massage while Deep tissue or pressure point can help relieve specific issues. Sports massage can help relieve injuries or pain. There are also other specialized techniques that can help with specific issues. For example, lymph massage can help reduce swelling.
How PMA Can Help
PMA helps train you to work with clients, ask the right questions, and be comfortable with all aspects of client-care. As part of the Business Law & Ethics course, students learn professional standards for practicing therapeutic massage. Students are also required to complete CPR and First Aid as part of their training. Students are required to complete a 100-hour externship at a local partner spa. As part of this, students are able to receive real work experience and interact with clients while under supervision.
PMA offers hands-on training and an externship at participating massage locations. You can learn from your instructors but from other massage therapists that are working in this field.This allows for real-life experiences and expertise to be passed to the students.
PMA offers three different completion tracts to help with your busy schedule. For more information on our online massage therapy program, head to our website. Here, you can view the course curriculum and learn more about tuition reimbursement.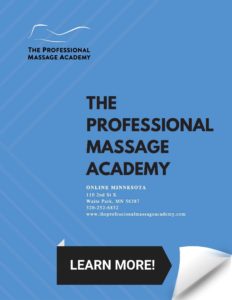 To learn more about our online massage therapy program, click here!
For more massage therapy content, follow our Instagram!