As a massage therapist, the tools you use are critical for ensuring a relaxing and successful massage for your client.
Each massage technique requires a different approach, and you will use different products depending on which technique you're performing. Lotion, for example, is ideal for a deep tissue massage as it allows the therapist to apply deep pressure and maintain a steady grip. On the other hand, a massage gel is a better option for massages such as Swedish, Sports Massage, and Hot Stone as it does not need to be reapplied and provides more coverage than oils and lotions.
There are also essential oils that you can use to promote relaxation and reduce headaches, which is called aromatherapy. Lavender and peppermint are some of the more common essential oils used in this treatment option.
As part of our course, you will practice these massage therapy techniques with our instructors, learning how and when to use each product.
These are some of the products we recommend to get the best results as you work with clients!
Massage Therapy Product Recommendations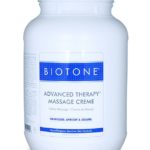 For more info about our online massage therapy program, click here.