What is Aromatherapy? Aromatherapy is the term used for describing the ways in which certain smells can guide us – body, mind and spirit. Certain "aromas" or smells, can elicit particular responses. Aromatherapy is highly-used in massage therapy, as an adjunct to the many benefits of massage itself. Many Massage Therapists (MT) use different aromas based on the response they would like to invoke in their client or during the session itself. It is important to discuss with your MT and/or client particular concerns, allergies, or aversions to certain aromas as needed. Some people do not like any smells at all during their massage session, while others love it.
Different Aromas and Their Benefits
Certain smells are helpful in eliciting certain responses or feelings. For example, lavender is known to aid relaxation. Lavender can even help people destress, become more calm, and improve sleep. Peppermint oil can be helpful for decreasing headaches and tension, especially when applied to the forehead or temples. Eucalyptus oil can be helpful for opening airways and helping one breathe more clearly when congested. Tea tree oil can help with disinfecting – both surfaces and people's bodies (for example with acne or athlete's foot). Other citrus oils, such as lemon or orange, can be uplifting and invigorating and often are ok to add to beverages.
How is Aromatherapy Used in Massage?
There are many ways in which MT's can use aromatherapy. The most common ways that aromas can be used are by: lotions, oils, diffusers, or candles. Many lotions contain aromas, and one can add aromatic oils to the regular lotion they use as well. There are many "essential oils" out there today on that market that contain certain smells or a combination of aromas. Diffusers are machines that have the ability to use aromatherapy in water that is expelled into the air. Candles can also have aromatherapy benefits, however it is important to be aware of the ingredients used in candles and that they are safe and non-toxic.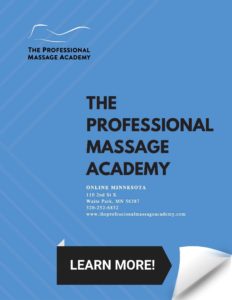 To learn more about our online massage therapy school, click here!
For more massage therapy content, follow our Instagram page!