PMA is a massage therapy program that combines online learning with hands-on training.
This is a great option for people at home right now that are looking to start or change their career. You learn the theories and important concepts at home online, and apply those ideas to hands-on training that occur in person with your instructor.
The hands-on training is also very convenient, in order to fit your busy schedule. This in person hands-on training is coordinated with your instructor for times that work for you. There are numerous locations to choose from, with convenient locations around Minnesota at participating massage therapy businesses. Because of the flexibility of the program, you can complete the program in as little as 15 weeks or up to 40 weeks, depending on your schedule. This program makes it easy for you to become a massage therapist!
Many people find that online is the best option, for many reasons. Online classes allow you to learn when and where you want, giving a lot of flexibility. For example, if you work a full time job, you don't have to adhere to a strict class schedule. You can  take your courses at night or on the weekends. Also, if you live in a rural area, PMA is a great option to save time, energy and money on commuting.
Students learn at home on their own time, so here are some helpful study tips to help with the online component.
1. Set a Schedule
Find a particular schedule that works well with you and your other commitments. Make sure you stick to it and commit to that time each day or week so you stay on top of things. Because this is on your own time, it can be helpful to set aside consistent times each week to devote to studying and learning.
2. Create a Designated Study Area
Make a study area in your home with little to no distractions. Have a separate space where you can focus and dedicate your efforts to studying. This space should be comfortable and well-supported for proper ergonomics as well.
3. Know You Can Reach Out to Instructors at Any Time
With your online learning, you should definitely still take full advantage of help or mentorship. Ask any questions that you may have as they come about, and Instructors are available via email or video chat to help answer any questions and go over concepts with students.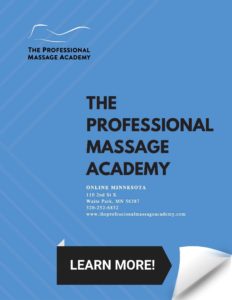 To learn more about our online massage therapy program, click here!
To enroll in our online massage program to start your next career today, click here!
For more massage therapy content, check out our Instagram!