Massage therapy is a great career, and there are many various ways to go about structuring it to fit one's needs and lifestyle. There are many people who perform massage therapy as a full-time career, and there are also many people who find it to be a perfect part time career or a second career.
Flexible Schedule
There is a very flexible schedule with massage therapy as a career, therefore allowing it to be a great part time commitment. There are ways in which one can have a primary career, and still be a massage therapist as a second career. The flexible hours can often fit outside of your "regular 9-5" kind of job, and thus nights and weekends are a great way to fit massage therapy into one's life.
Competitive Wages
One can make a good wage as a massage therapist, which is also a great draw for this as a part time or second career. You can also work for yourself or a company, and thus many options for this. Working for yourself you may be able to take home a good portion of what you charge, as long as your overhead and costs are low. When working for a company, you may be able to negotiate your wage and/or receive certain perks or benefits.
Education
The education that it takes to obtain a massage therapist certification will teach one about their own body and how it works best. The curriculum is based on health, wellness, massage techniques, anatomy, kinesiology and many other classes. People often report that they learn about taking care of others as well as themselves, which is a huge benefit and can change one's outlook on life.
Fulfillment by Helping Others
Lastly, being a massage therapist will bring a sense of fulfillment to one's life by helping others. The fact that a massage therapist helps people each and every day can be a huge draw to this field. This is a great career for someone who enjoys working with others, and helping them achieve an optimal quality of life – now and in the future!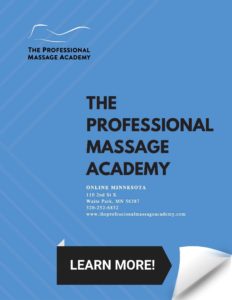 For more information on our online massage therapy program, click here!
For more massage therapy content, follow our Instagram!