In order to become a licensed massage therapist, it is required to pass the Massage and Bodywork Licensing Examination or MBLEx. This exam is an entry-level licensure exam administered in 46 jurisdictions nationwide. It is regulated by the Federation of State Massage Therapy Boards (FSMTB). It is designed to provide a standard examination for students of Massage for entry-level professional scope of practice in gaining licensure.
When Can I Take The MBLEx?
The MBLEx is available to take on a daily basis, year-round at test sites across the United States and US territories. There will be a fee and a background check before the exam application process is complete. Once you are approved to test, you will receive an Authorization to Test (ATT) over email. The email will have the information you need to register for the exam date and testing location of your choice. Click here to find a testing site near you. 
MBLEx Structure
Candidates have two hours to complete a 100 multiple-choice questions. Five minutes will be for a security and confidentiality agreement. Another 5 minutes for a brief survey. If the exam is not finished in 2 hours, it will result in automatic failure and no report will be given.
The exam is administered on a computer at an authorized testing center. A score of 630 or higher is needed to pass the exam. You will receive a score total as well as other information showing your performance in each subject area.
An applicant who does not pass the exam after three attempts must provide proof of successfully completing additional clinical training or coursework to the board. If approved, the board will allow three additional attempts to pass the exam.
Exam Content
The MBLEx consists of different topics and is broken down by percentages. Here is the question content breakdown:
Anatomy & Physiology  11%

Kinesiology 12%

Pathology, Contraindications, Areas of Caution, Special Population 14%

Benefits and Physiological Effects of Techniques that Manipulate Soft Tissue 15%

Client Assessment Reassessment & Treatment Planning  17%

Ethics, Boundaries, Laws and Regulations 16%

Guidelines for Professional Practice 15%
Tips For Studying
Do not cram the night before an exam. It is recommended to begin studying 3-4 weeks in advance for 45-minute increments. Make sure to take study breaks and get enough sleep in the process. 
Take the practice exams that are offered. Taking the practice exams will help you assess your studying to make sure you are prepared. It will also help you see which topics you need more practice with and if you are studying the correct material.
The night before the test, trust yourself that you have prepared enough. Relax, drink water and get to bed at a good time. You want to wake up refreshed and ready for your exam!
Overall, the MBLEx is the only national, entry-level licensing examination that states use when assessing a candidate for licensure. Make sure you are well prepared beforehand and you are confident in your ability to pass. Good luck and hopefully you found some good tips to prepare you for MBLEx success.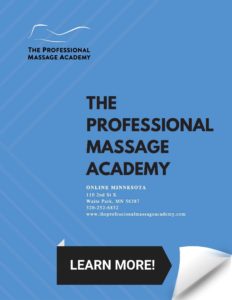 If you are interested in learning more about PMA's online massage therapy program, click here!
For more massage therapy content, follow our Instagram!