When people come in for a massage therapy appointment, they want to feel like they are in the hands of a trained professional. The Massage Therapist should strive to come across in a professional manner, and realize that there is a lot of trust involved on the side of the client and in the process of getting a massage. There are certain tips and techniques that will help to achieve this and build rapport with your client.
How to Interact With Your Client
For example, the manner in which you interact with your client before, during and after a massage is very important. Before the massage, be sure to greet your client in a friendly and professional manner. You want to introduce yourself, and learn the client's name. Ask appropriate questions and listen to their needs and goals of the session. You may ask additional questions to clarify or learn more about the person. Only ask questions that pertain to the upcoming massage.
During the Massage
During the massage, it is good to check in with the client about how they are feeling, and the pressure you are using. Many clients do not like to speak much during the massage and they like quiet and relaxation. Some may be interested in a conversation, but it's always good to check in about this. You can also read the client and take the cues they give you. Be sure not to speak too much about yourself during the Massage – stay focused on the client.
After the Massage
After the massage, check in with your client. Be sure that they feel ok and ask how they enjoyed certain aspects of the massage. It is helpful to write things down that may help with the next session, as needed. This also shows genuine care and allows the client to feel heard.
How to Dress Professionally
How one dresses can also add or detract from professionalism. It is important to dress professionally – this means appropriate attire, nothing too distracting, as well as comfortable for the therapist to move around in. Some examples of distracting clothing are items that depict ideals related to societal issues, political statements or personal choices or items that are too tight or revealing. Many massage therapists choose to wear business casual pants rather than jeans or sweatpants, as this portrays a more put-together and professional look. Closed-toed shoes rather than open-toed are also considered more professional and sanitary as well.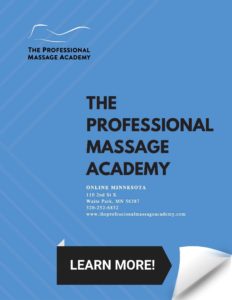 For more information on our massage therapy programs, click here!
Follow us on Instagram for more massage therapy content!