When it comes to starting school, changing a career path or adding on a second career, there can be many different obstacles such as time, money and location. Our massage therapy programs at The Professional Massage Academy (PMA) can help solve these common issues. Massage therapy is a great choice for your next career change! There are many reasons to consider massage as a career, and here are a few of those reasons.
1. Massage therapy certifications are easily attainable.
Massage therapy school through PMA is flexible for your schedule and takes little time to complete. You will learn the skills needed for a career in massage, on your own time and mostly from the comfort of your own home. There are three options available at PMA to fit into your particular goals and lifestyle. Plan A program is up to 15 hours per week and allows a Student to complete the program in approximately 40 weeks. The Plan B program is 15-30 hours per week commitment and the Student can complete the program in approximately 20 weeks. Plan C is a program of 30+ hours per week and will take about 15 weeks to complete. These plans provide students with the flexibility to get their online education finished in a range from 15-40 weeks which is much less time than traditional college degrees and certifications.
2. You can work from any location.
Another great thing about PMA's online learning is the option to learn and do coursework from anywhere! This is a great option if you have to stay at home, if you are always traveling or if you enjoy the convenience and flexibility of remote work. This allows for no daily commute, which is a huge time saver. This also helps students keep their other life priorities. Students can work or take care of children/family at the same time as completing the program. Also, when you are a massage therapist you can work in many different locations and there are opportunities for you to work all over the world! There is always an industry for massage and ample job opportunities available.
3. Affordable tuition.
One of the great benefits of online learning at PMA is affordable tuition. Going to in-person or other online colleges can get expensive fast and usually are between two to four years of schooling. PMA's three different plan options (discussed above) are all the same tuition so you can choose what will work best for you without additional cost. There are also other benefits and opportunities for financial assistance available.
4. You get to help people!
Massage therapy is a rewarding career, and you get to help people every day achieve a better quality of life. You can use your skills and expertise to assist people. You can decrease pain and improve function, as well as getting to know your clients. The therapeutic relationship is very important with clients. It brings massage therapists a high level of happiness in their own lives as well.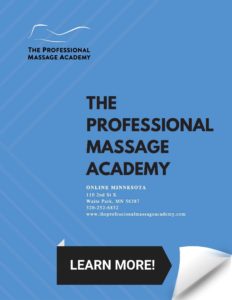 To learn more about our online massage therapy programs, click here!
For more massage therapy content, follow our Instagram!