There are so many work opportunities as a massage therapist, depending on what your goals and needs are. There are ample different locations in which a massage therapist could decide to work. Some locations include: an already established massage business, a chiropractor's office, a cruise ship, a resort, from your own home, from a business you create, at events (such as sporting or work events).
The Opportunities Are Endless
Depending on which location a massage therapist chooses, they may have quite a different and unique experience. For example, when working in an established massage business you may have a full schedule of clients. These can be provided by the establishment. On the contrary, if you have your own business, you may have the sole responsibility to find and keep your clients. Also, if you primarily work at events, you may need to be more flexible with the type of environment you find yourself in, while if you work from home then you know exactly what the environment is that you created.
Choose The Schedule That Works For You!
There are also flexible hours and ability to choose if you want to be full time, part time, on-call or for special occasions. Often, you can go between these different options based on your life and the work-life balance you decide on. No matter what your hours end up being, the massage therapy career can fit your lifestyle. It allows for flexibility that other careers can not.
At The Professional Massage academy, we prepare our students for all the different paths they can take with their massage therapy career. If you would like to learn more about our online massage therapy programs, visit our website today!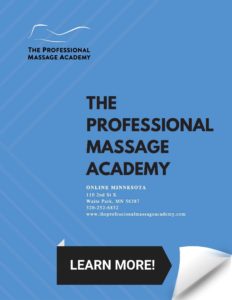 To view our course catalog, click here!
For more massage therapy content, follow our Instagram page!