Cardiopulmonary resuscitation (CPR) and First Aid are very important skills to know how to perform as a massage therapist. You may be in situations where you need to help someone – even a client while in your care. CPR is a known emergency procedure that can help save a person's life. When someone stops breathing or their heart stops beating, this means that they are in cardiac arrest. This limits the hearts' ability to pump blood adequately to the rest of the body, and can lead to death if not treated.
CPR Technique
CPR is an emergency procedure that can help save a person's life if their breathing or heart stops. When a person's heart stops beating, they are in cardiac arrest. During cardiac arrest, the heart cannot pump blood to the rest of the body, including the brain and lungs.
The most common type of CPR is known as "Chest Compressions." This technique involves imitating heart beats by giving chest compressions with ones' closed hands over the chest region. The frequency and depth of the compressions is specific and needs to be the correct dosage.
All students are required to complete four hours of CPR training with the Red Cross or other certified instructor before graduation. When completed, the person will be considered "CPR certified" for a certain amount of time.
First Aid
"First Aid" is emergency care given immediately to someone with an injury. The goal is to decrease or stop the injury and aid healing. For example, if someone cuts their finger then the first aid response may be to stop the bleeding, clean the wound/cut and apply proper band aid or bandage to cover the injured area and prevent infection. In serious cases, first aid may be necessary to keep the person alive.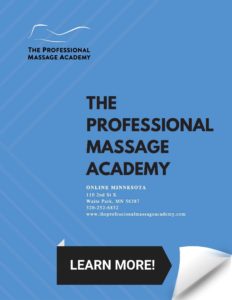 Find out more about our Massage Therapy Academy, click here!
Follow our Instagram page for more Massage Therapy content!