As a student in our program at PMA, there are many benefits and assistance with finances. For example, every student receives a free massage table, shirts, lotions, water bottles and more when they are part of the program. The massage table is valued at over $500, and these help you to get started right away as a massage therapist!
Our Financial Assistance
We are also committed to delivering quality, affordable tuition. We offer financial payment plans if applicable, as well as offer tuition reimbursement for students through our many business partnerships. For example, students who are hired at Massage Envys are eligible for tuition discounts.
Students have the option of paying for the tuition in full prior to starting the Online Program. We can accept credit/debit, a check or PayPal as a form of payment. If you are not able to pay in full before starting the program, we can also accept monthly payments through a tuition financing company. There are no interest fees, no credit check or anything along those lines if you choose to make monthly payments.
Tuition Reimbursement Program
In addition to working with a tuition financing company we also offer a Tuition Reimbursement Program. This program is available after you graduate from the Professional Massage Academy. To qualify, there are a few requirements. First, you must be hired at a participating spa business location; secondly, you must work a minimum of 30 hours a week on average. Lastly, you must commit to 2-years of employment with them. Then, over the course of those 2 years, the PMA graduate would receive up to $3,500.00 back in tuition.
Not only do we work with our students on the financial aspect, we also work with you on finding the right track. There are flexible options in terms of time commitment, so we can help you reach your goals while accommodating your busy schedule. Our goal is to help you become a massage therapist and on with your happy career in this wonderful field where you get to help people every day! If you have more questions on our financial assistance offerings, contact us!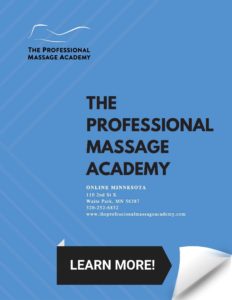 Find out more about our Massage Therapy Academy, click here!
Follow our Instagram page for more Massage Therapy content!